Mysiah Health Inc
TROUBLE FOCUSING AT WORK?
Try our NEW Lions Mane Focus Gummies! Packed with organic extracts from the fruiting body. Enjoy 10% off right now by signing up with your email.
Shop Now
CERTIFIED ORGANIC
FRUITING BODY ONLY
NO GRAIN NO FILLERS
NON GMO
GMP MANUFACTURING
TESTED FOR ACTIVE COMPOUNDS
VEGAN
GLUTEN FREE
RECYCLABLE PACKAGING
SUSTAINABLE PACKAGING
Let customers speak for us
Why Immune Mushroom Gummies?
Most mushroom products on the market today are made from the roots of the mushroom also know as the mycelium or grain. MYSIAH's gummies are made with 100% organic vegan mushrooms that are extracted from the fruiting body of the mushroom, where majority of the nutrients exists. MYSIAH wanted to ensure that not only do its gummies taste delicious but they also offer consumers extensive benefits!*
Many mushroom products on the market don't reveal the % of polysaccharides within the product, often because it's less than 10%. MYSIAH is committed to transparency, because we make our products with all natural, highly nutritious valuable ingredients.* MYSIAH's gummies are made from the fruiting body of the mushrooms and contain beta-glucans which are responsible for immune-modulating effects* MYSIAH's gummies are made with 30% or more polysaccharides. Remember, its not about the quantity of grams, it is about the quality of the ingredients!
Mushrooms have a cell wall made from a structural polysaccharide-chitin. Chitin has many benefits, however, it lowers the bioavailability of other important nutrients. MYSIAH mushroom extracts are dual extracted which helps to break down the chitin walls to ensure that you get the full benefits!
Why settle for less, when you can have it all? We packed 6 of the most prized organic mushroom extracts into each gummy to provide our customers true value.
Reishi|Lions Mane|Chaga|Turkey Tail|Maitake
Our promise to you with every order.
100% SATISFACTION GUARANTEED
Each of our products comes with a 100% Satisfaction Guarantee. If you aren't completely satisfied with your MYSIAH order, we are happy to refund your money within 30 days from your purchase date. No questions asked.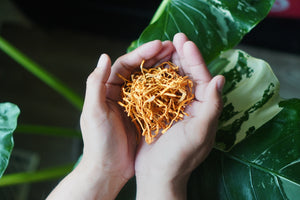 Modern Technology Combined with Eastern Philosophy
At MYSIAH we combine natural plant-based compounds with absorption technology, bioavailability experts and well-established CGMP pharmaceutical manufacturing partners to develop supplements that the body can actually absorb.
Learn More About How to Stay Healthy!
View all