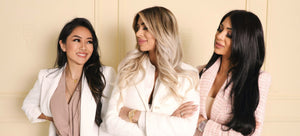 Our Mission
"To facilitate and restore the connection between the body and mind by creating a dynamic, adaptive, and inclusive supplement experience that inspires physical and mental wellbeing."
Here's Why
We've come together because we have spent much our lives using a variety of supplements and felt there was a need in the market for more effective, easy to take, honest supplements.
Many of our loved ones were encouraged to take products that either did not work or resulted in many adverse side effects. We wanted to create something better.
We set out to start our own supplement company. We stand for integrity and have focused on sourcing the best ingredients, partnering with industry experts and developing products we know will work. Our mission is to develop the most effective, plant-based high quality supplements that offer better bioavailability.
INNOVATION
We continually seek out leading-edge technologies and processes to deliver optimal health benefit solutions.
INTEGRITY
We listen with curiosity, we speak with honesty and we act with transparency.
INTELLIGENCE
We collaborate with industry leaders to acquire and utilize knowledge and expertise relevant to our core business objectives.
MEET OUR TEAM
With our unique backgrounds and passion for health we work together to produce and deliver value to our world.
Meena Rai - CEO & Founder, MBA
Meena is the co-founder of Mysiah Health Inc. She has 5 years of experience in senior management roles with established companies in the hospitality industry. She has gained a strong passion for health and wellness and studied mental health, Ayurveda, meditation and yoga with Deepak Chopra in San Diego. She received her meditation and yoga teaching certifications and seeks opportunities to utilize her knowledge to improve the well-being of others. Meena earned a degree in Business Administration (BBA) and a diploma in Marketing Communications at the British Columbia University of Technology.  She is in the process of completing her Masters degree in Business Administration.  

Sofia Rai - Corporate Secretary & Founder , JD
Sofia is a director and a co-founder of Mysiah Health Inc. She graduated with a Juris Doctor from Peter A. Allard School of Law at UBC in 2017. She then practiced corporate securities law and represented both issuers and investment dealers in connection with public and private securities offering, reverse take-overs, mergers and acquisitions and other corporate restructuring transactions. She worked with a number of companies engaged in emerging industries such as the cannabis, tech, psychedelic therapeutic and cryptocurrency industries. Her introduction to, and immediate interest in, emerging markets is what coined her awareness of the power of CBD and mushrooms, which thereafter, fueled her motivation to begin Mysiah. 
Suzanne Tran- VP Marketing & Founder
Suzanne is the head of marketing and director and a co-founder of Mysiah Health Inc. She has 10 years experience in marketing and sales for real estate companies including social media management, content development and brand awareness. She has spent several years studying and researching mushrooms and the bioavailability of substances. She is eager to collaborate with industry experts and utilize superior technology to develop bioavailable products for the masses. Through her business ventures she has learnt to allocate her profits into real estate investments. To further her knowledge in real-estate and investment she earned her mortgage license to become an investor and advisor.

Jarrett Malnarich, BSc- Advisory Board
Jarrett has extensive experience as an Executive Director for private and public companies within the consumption CPG industry (food, beverage, natural health, biotechnology, agriculture, pharmacy and cannabis). He has a solid background in developing and executing strategic and business plans, building teams and departments, rapid growth models, product development and placement, proof of concept, distribution, budgets, financing and sales involving both start-up and operating companies. He is a results oriented leader with proven success in building and or re-structuring companies, aligning board of directors, shareholders and investors. He has experience in various financing vehicles, developing, and commercializing controlled and regulated consumable products.
Jamila La Malfa-Donaldson PhD - Advisory Board
Jamila is an Industrial Hemp PhD Researcher with expertise in developing testing, processing, and cultivation methods for therapeutic compounds, including CBD. Prior to her PhD, Jamila obtained her Masters in Chemical Engineering with Business and worked as a science communicator, delivering STEM workshops to schoolchildren. Jamila now runs her start-up, PROHEMPOTIC, and has experience in grant & technical writing, product development, pitching, and marketing. Jamila recently received a Young Innovators Award from Innovate UK. She is keen to collaborate on innovative projects and enjoys sharing her passion for all things hemp & CBD through educational content.
Stanton Ross - Advisory Board
Stanton E. Ross has served as Chairman and Chief Executive Officer since September 1, 2005. From March 1992 to June 2005, Mr. Ross was the Chairman and President of Infinity, Inc., a publicly held oil and gas production and service company (IFNY), and served as an officer and director of each of Infinity's subsidiaries. He resigned all of his positions with Infinity Energy Resources, Inc. in June 2005, except Chairman, and then resumed his position in December 2006 at the request of the board. From 1991 until March 1992, he founded and served as President of Midwest Financial, a financial services corporation involved in mergers, acquisitions and financing for corporations in the Midwest. From 1990 to 1991, Mr. Ross was employed by Duggan Securities, Inc., an investment banking firm in Overland Park, Kansas, where he primarily worked in corporate finance. From 1989 to 1990, he was employed by Stifel, Nicolaus & Co., a member of the New York Stock Exchange, where he was an investment executive.
Vince Spinelli, BSc- Advisory Board
Mr. Spinelli is an energy industry executive with 30+ years of broad international experience managing billion-dollar enterprises in rapidly changing and emerging markets. A proven track record in operational turnarounds, M&A, IPO, ESG & cultural transformations. He has demonstrated the ability to identify and recruit talent, lead change and inspire others to build strong trusted relationships. Mr. Spinelli's most recent position was the Managing Director for the National Oil & Gas company of Kazakhstan, Kazmunaigas, a company of 90,000 employees and $20 billion under management. Mr. Spinelli holds Bachelor of Applied Science and Executive Management degrees. Mr. Spinelli serves as an Advisory Board member for Altair Resources Inc., a mid-tier precious metals mining company and for Formula Equal Ltd. an emerging Formula One racing team.
100% SATISFACTION GUARANTEED
Each of our products comes with a 100% Satisfaction Guarantee. If you aren't completely satisfied with your Mysiah order, we are happy to refund your money within 60 days from your purchase date. No questions asked.


SHOP NOW